GET TO KNOW
OUR MATERIALS
At Derek Rose, we're proud to offer luxurious loungewear, leisurewear, sleepwear and resortwear, made from the finest materials all with the goal to make you look and feel good.
Using the highest quality silk across our dressing gowns that you can't wait to put on at the end of a busy day, or using the softest cashmere for a hoodie that's perfect for the weekend. Or why not lounge in a sea island cotton t-shirt, made from the finest and rarest sea island cotton? We pride ourselves on the materials we use.

Keep reading to learn all about the different types of materials we use and why they're so exquisite to help you update your wardrobe with only the best.
Finley / Daphne
Cashmere
Cashmere is known for being the softest type of wool in the world. It is particularly sought-after for it's unrivalled softness and lightweight feel. Whether you're heading out to brunch with friends or want to snuggle up on the sofa to watch your favourite TV show in the evening, cashmere will always be there to make you feel relaxed and chic.
The cashmere we use in our fine men's knitwear and women's knitwear is harvested from goat fleece using cruelty-free methods – combing the soft fibres of the goats' downy winter undercoats when they naturally shed in the spring. It's the furthest thing from an itchy wool jumper – three times warmer and staying soft and easy to wear with the proper care.
brushed / satin / batiste
Cotton
Cotton is a comfortable and versatile material that has been spun, woven, and dyed for centuries. It comes from the seed pod of the Gossypium plant and is extremely durable, which is why it has been a staple part of cloth weaving for such a long time. 
Lightweight and breathable, cotton will keep you comfortable no matter the weather. From strolling on a sandy beach in a cool, soft cotton t-shirt, to flying on a long-haul flight in your favourite pair of comfy and cosy cotton sweatpants, there's nothing cotton can't do.
The velvety touch of our brushed cotton garments, such as those found in our women's brushed cotton pyjamas and our men's brushed cotton pyjamas, comes from a unique process where pure cotton fibres are combed and smoothed, making them the best choice for relaxing nights in and laid-back lounging. 
Bailey / Brindisi
Silk
Luxurious and lightweight, silk is a beautifully soft fabric that makes staying home a true pleasure. Silk is most commonly made from the protein fibres from silk moth larvae, although other types, such as lotus silk, are also highly coveted. The fibres are collected and spun into a fabric that has a buttery, lightweight feel you can't help but touch.
There's no finer experience than our silk sleepwear for men and silk sleepwear for women. Using the best silks and designed with love and passion, our silk pyjamas will take your evenings to dreamy new heights and are so lightweight they'll keep you cool throughout the night. Caring for your silk garments properly will ensure they last a lifetime.
Basel / Lara
Jersey
We're proud of our Micro Modal and Lyocell materials. Both materials are of botanic origin, using sustainably forested wood sources. The modal we use is made from sustainably-sourced European beech trees. Our Lyocell is created in a closed-loop process with high resource efficiency and low ecological impact.
These fabrics are groundbreaking modern materials that can be used instead of cotton and other fabrics. Our women's Lara Micro Modal collection offers an effortlessly chic luxe look, whereas our men's Basel Micro Modal collection features versatile wardrobe essentials.
Both fabrics are strong, durable, lightweight, and crease-resistant, so they help cut down on ironing, leaving more time for enjoying your time off. Not only that, they are both naturally anti-bacterial and breathable and help with your natural thermo-regulation, so you stay comfortable in all temperatures.
Shop our best-selling men's micro modal t-shirts.
Whether you're spending time with friends or family or enjoying an evening alone at home, we want to help you look and feel good in everything you wear, which is why the material we select for our luxurious clothing is so important to us.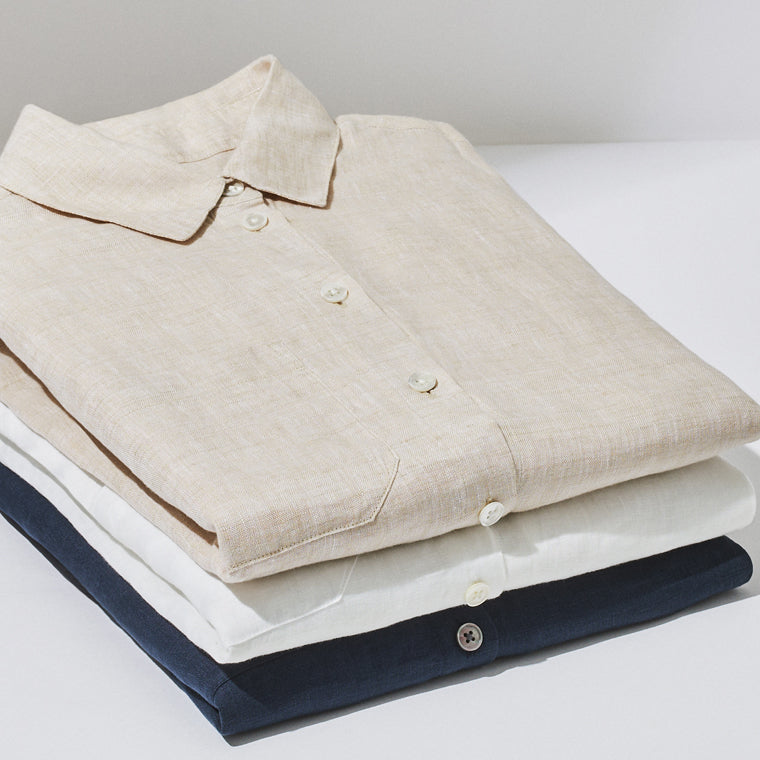 TEES / SHORTS / TROUSERS / SHIRTS
Linen
Where cotton is made from fibres from the cotton plant, linen is made from fibres harvested from the flax plant. Turning flax into fabric is an ancient practice, and it's thought it stems back over 30,000 years! Linen is a durable fabric that wicks away moisture and dries quickly, making it perfect for keeping you cool and comfortable as the sun comes out to play.
Our pure linen collection for women and pure linen collection for men are must-haves for the perfect holiday outfit. Explore the busy cobbled streets of a European weekend getaway in lightweight linen trousers or why not  throw a stylish linen shirt over your swimwear as you head to the bar for a cocktail or two. Learn more about our linen by having a read through our Pure Linen You'll Want To Live In guide.
FOR ALL YOUR FREE TIME...
OUR COLLECTIONS
ABOUT US
The Derek Rose Story
Find out more about our brand, our approach, our people and our history.